Cabo de Gata Geopark
---
Cabo de Gata Geopark is a unique space in every way. Also its physical environment deserves outstanding rating. Its exotic and evocative geological landscapes of clear African reminiscences of this Geopark, hide an extraordinary unique geological information to understand the evolutionary history of the great Mediterranean basin in the last million years.
Cabo de Gata-Níjar Natural Par khas the privilege of being the first Andalusian natural space that joins the European Network of Geoparks. This recognition took place in the II meeting of European Geoparks celebrated in Lesbos Island (Greece) in October 2001.
This geological heritage is of exceptional scientific interest. It also acquires a new value perspective if it is observed as a natural resource, geo-resource. This has already been fully incorporated into the offer for public use of the park. It should not be forgotten that this space, given its double status as a European Geopark and therefore a member of the World Geoparks Network that operates under the auspices of UNESCO. And as a Biosphere Reserve, it is called to play an essential role in the task of environmentally educating our generation and those to come.
During the last million years of the history of the Earth, most of the territory of Cabo de Gata and a good part of the current coastal area of ​​Almeria, was invaded by the Mediterranean Sea.
In this particular ecosystem marine basin, settled on the old rocks of the Betic reliefs, deposited sediments from the erosion of the surrounding mountains. The basin in several moments hosted important volcanic manifestations. Once the sea has been definitively removed, the basin's fill, its rocks and sediments, are exposed in an unbeatable condition, revealing its own history and by extension, that of the Mediterranean basin.

To learn more you can visit the volcanoes house


OTHER PROTECTION FIGURES
Special Protection Area for Birds (ZEPA)
Humedal of International Importance Las Salinas del Cabo de Gata (RAMSAR) UNESCO Biosphere Reserve
Specially Importance Protected Area in Mediterranean Sea (ZEPIM)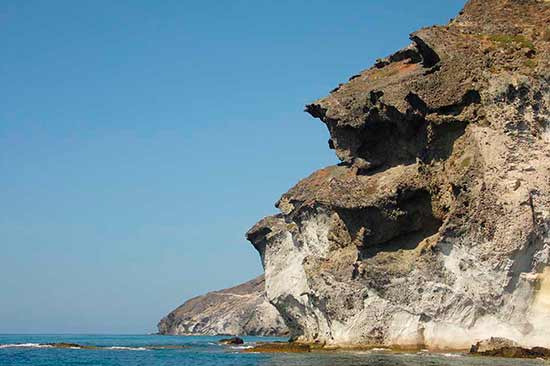 ---
PHOTOS IN CABO DE GATA GEOPARK
---
---
---
Cabo de Gata Natural Park is a first-class protection place.If you navigate through these pages do not forget that the information you can obtain here, should be used with sensitivity.


Although we try to select the services that they are promoted here, we can not be held responsible if any of them presents any type of deficiency during your stay.

If you have any tourist service or Lodging in Cabo de Gata Natural Park, you can contact us and announce it in this informative guide.

---